Wednesday 01 April 2020
Windmill or no windmill, he said, life would go on as it had always gone on — that is, badly.

Animal Farm, 1945
The Orwell Prizes will be awarded to schedule, with longlists revealed next week
We are experimenting with new ways to promote nominees
The Orwell Youth Prize is open to entries for an additional month: we want to collate your responses to the current situation, and offer an online platform for students and young writers to share their work, get their voices heard and encounter new ideas
All events until September 2020 have been cancelled, to be rescheduled when and where appropriate, with the exception of the Prize Ceremony on the 25th June 2020, which we are holding under review
Orwell Prizes running to schedule, longlists revealed next week
Thanks to the dedication of our judges, the 2020 Orwell Prizes will be awarded to schedule. We are working with our partners and the team at Working Word to ramp up our online promotion this year. If you are longlisted for the Prize, we will be in touch very soon to explain more about what we have in mind.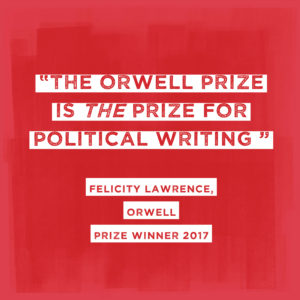 The longlists for the Orwell Prizes will be revealed next week, beginning with the Orwell Prize for Political Writing and Orwell Prize for Political Fiction. Shortlists will follow in mid-May, with the winners announced on the 25th June, Orwell's birthday. Our first priority is the welfare of our staff, trustees and those who work with us. We are especially grateful to our partners and sponsors, the Joseph Rowntree Foundation, The Political Quarterly, A. M. Heath, UCL and George Orwell's son, Richard Blair, for their ongoing support.
Longlists will be announced on consecutive days from Wednesday 8th April 
Wednesday 8th April 2020 — The Orwell Prize for Political Fiction and Orwell Prize for Political Writing longlists (joint announcement)
Thursday 9th April 2020 — The Orwell Prize for Journalism and Orwell Prize for Exposing Britain's Social Evils longlist (joint announcement)
The nominees will be announced via a news story on this website and on social media on the morning of the day in question.
The Orwell Youth Prize extends deadline for entries
Our partners at the Orwell Youth Prize have extended their deadline for entries by a month. Every young person who enters the Prize before 6th May 2020 is entitled to individual feedback, which we hope will be even more valuable right now.
We are also pulling together reading lists and resources about the current crisis for young people, teachers and parents, including articles and insights from previous Orwell Prize winners. For more information, contact Alex at alextalbott@orwellyouthprize.co.uk.
What we are doing
Over the next few months we will be working closely with the Orwell Youth Prize to turn our programmes on their head. We want to produce more exclusive, home-made Orwell content, and expanded opportunities for audiences, writers and reporters and young people. The best way to stay up to date is via our regular newsletter, a one stop junk shop of all things Orwell.
There is a wealth of resources about George Orwell, his times, and political writing past and present on the Foundation website, including free recordings of many previous Orwell Memorial Lectures and innovative dramatised readings of Orwell's work. We'll be picking out some highlights.
The current crisis is, among so many other things, a crisis of communication. At the core of George Orwell's legacy is his fearless appraisal of the way we communicate with one another, as individuals and as a society. We hope that we can do our bit by continuing to celebrate honest writing and reporting, drawing on Orwell's own work to explore how people tell the truth in difficult, uncertain circumstances.
Contact us
By far the best way to stay up to date is to sign up to our newsletter. Members of the Party who are permitted to use social media can follow us on Twitter at @theorwellprize and Instagram at @orwellfoundation. Tag us with your Orwell-inspired reading. The Orwell team is working remotely, indefinitely, so if you any questions about the Prizes or programmes, please email the relevant staff member. For the Book Prizes (Political Fiction and Political Writing), contact James at james.tookey@theorwellprize.co.uk
The photo is of Barnhill, on the island of Jura, where Orwell self-isolated while finishing his final novel, Nineteen Eighty-Four.