The Prize is extremely grateful to its partners and sponsors. If you are interested in supporting the Orwell Prize in any way, please get in touch.
Partners
Sponsors
Previous sponsors
Political Quarterly
'The Political Quarterly plays host to some of the best writing about both topical issues and underlying trends in UK and European politics'
Professor Lord Raymond Plant
Since its foundation in 1930, the Political Quarterly has explored the key issues of the day from a centre left perspective and promoted debate about them. It is dedicated to political and social reform and has long acted as a bridge between policy-makers, commentators and academics. The Political Quarterly addresses current issues through serious and thought-provoking articles, written in clear jargon-free English. Many of PQ's readers are academics, but the journal aims to address the interests of a broad readership of policymakers, politicians, journalists, students and the informed public.
The Political Quarterly publishes analysis, insight and informed opinion on politics and public policy in the UK and globally. It aims to provide access to current academic debates and draw on critical intellectual arguments, but its hallmark is the use of plain English, avoiding theoretical and technical jargon. It is run by an independent editorial board and currently published by Wiley Blackwell. As well as the journal, the Political Quarterly publishes books, organises political debates and events and sponsors the prestigious Orwell Prize for political writing. The Political Quarterly is broadly centre-left in outlook, but publishes a wide range of authors and viewpoints. The current editors are Deborah Mabbett and Ben Jackson.
The Political Quarterly was founded in 1930 by Leonard Woolf, Kingsley Martin and William Robson. Past editors include Bernard Crick, David Marquand, Andrew Gamble and Michael Jacobs. Past writers for the journal include political thinkers such as John Maynard Keynes, Arthur Koestler, Harold Laski, Bertrand Russell, Leon Trotsky, William Beveridge, Ernest Gellner, Richard Hoggart and Raymond Williams.
Institute of Advanced Studies, UCL
The Orwell Prize is based in UCL's Institute of Advanced Studies (IAS), which facilitates critical thinking across conventional disciplinary boundaries. UCL is also home to the Orwell Archive, the world's most comprehensive body of research material relating to George Orwell, and a centre for Orwell scholarship.
The IAS is a research-based community of scholars comprising colleagues and doctoral students from across UCL as well as visiting fellows and research collaborators/interlocutors from the UK and internationally. The IAS is committed to critical thinking and engaged enquiry both within and across conventional disciplinary and institutional boundaries, and aims to provide a creative and generative context in which to question and dislodge habitual practices and modes of thought. In particular, in the context of a major multi-disciplinary university, the IAS harnesses UCL's extensive expertise across the humanities and social sciences, to investigate received wisdom, to bring the aesthetic and the political into dialogue with one another, to foster collaborative cutting-edge research, to identify and address the urgent ethical and intellectual challenges that face us today, and to confront our responsibilities as citizens of an increasingly contracting and inter-connected world, exploring our place (historically as well as spatially) within it.
The Orwell Prize expects to be able to develop Orwell scholarship and cultural and political engagement in the sympathetic and stimulating environment of  the IAS.
Richard Blair
Richard Blair is the adopted son of George Orwell. He writes: 'I first became involved with the Orwell Prize many years ago. It had been set up and organised by Sir Bernard Crick for a number of years prior to my coming on board. The awards had grown in stature and were taking on a life of their own. It became obvious that more people needed to be involved in organising the whole affair. Whilst I was happy to allow those with better connections than I when it comes to recognising the right people to get involved with the awards, I am very much in favour of it going onwards and upwards as Orwell's relevance is still as important today as it was when he was alive. It is to this end that I will do all in my power to help achieve the status that the awards deserve.'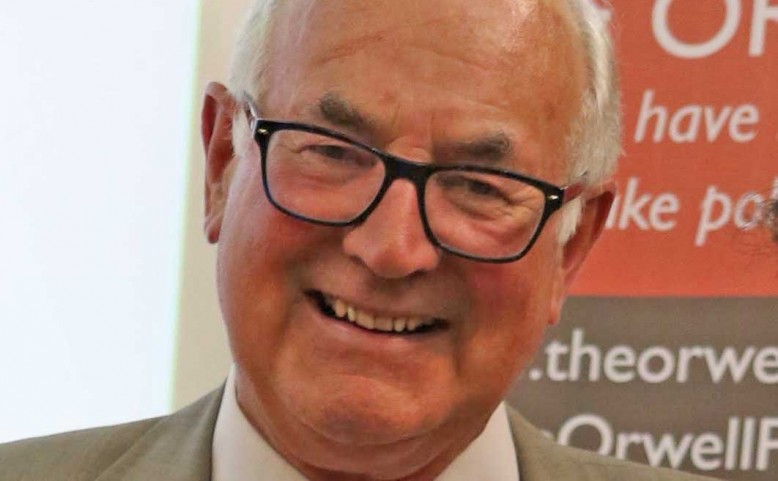 AM Heath
Founded in 1919, A.M.Heath is one of the UK's leading literary agencies. AM Heath represents established contemporary authors, rising stars and some of the iconic writers of the 20th Century.
AM Heath also represents several major literary estates, including the Orwell estate. If you have a query for the Orwell estate, please contact AM Heath.
The Joseph Rowntree Foundation
The Joseph Rowntree Foundation sponsors and supports the Orwell Prize for Exposing Britain's Social Evils, including the Unreported Britain Project. The Joseph Rowntree Foundation is an independent organisation working to inspire social change through research, policy and practice. Its vision is for a prosperous UK without poverty where everyone can thrive and contribute. To achieve this, the JRF work in partnership with private, public and voluntary sectors, as well as with individuals and communities. Using evidence and experience, the JRF searches for the underlying causes of social problems and demonstrate practical solutions in order to influence lasting change.
Media Standards Trust
The Orwell Prize was under the auspices of the Media Standards Trust from 2008 until 2015.
Reuters
Thomson Reuters supported The Orwell Prize for a few years, up to the Orwell Prize 2011.