Since the first annual Orwell Prizes were awarded in 1994, many distinguished figures from literature and journalism have served on its judging panel.
Previous judges include Carmen Callil, Bonnie Greer, David Hare, Richard Hoggart, Lisa Jardine, Penelope Lively, Andrew O'Hagan, Tom Paulin, Esme Percy, Lynne Truss, Marina Warner and Samira Ahmed. Sir Bernard Crick was chair of the judges until the 2006. The judges are now appointed each year by the Board of Trustees.
Judging the Orwell Prize was an invigorating experience. Reading the dozens of books and articles submitted, one realised just how potent Orwell's spirit and example still are in inspiring the best authors and journalists. The prize celebrates this enduring influence – and, I think, helps to perpetuate it.

Francis Wheen, Judge (2007 & 2017) and Book Prize Winner 2003
2021 Political writing book prize Judges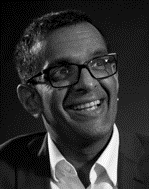 Anand Menon (Chair)
Anand Menon is Professor of European Politics and Foreign Affairs at Kings College London. He also directs the UK in a Changing Europe project (www.ukandeu.ac.uk). His areas of research interest include the policies and institutions of the European Union, European security, and British politics. He contributes regularly to both print and broadcast media. He is co-editor of the Oxford Handbook of the European Union (OUP, 2012), and co-author of Brexit and British Politics (Polity 2018). He is a trustee of Full Fact a member of the Strategic Council of the European Policy Centre, a Council member of the European Council on Foreign Relations and an associate fellow of Chatham House.
Angela Saini
Angela Saini is an award-winning British science journalist and broadcaster. Her latest book, Superior: the Return of Race Science, was a finalist for the LA Times Book Prize and named a book of the year by The Telegraph, Nature and Financial Times. Her previous book, Inferior: How Science Got Women Wrong, has been translated into thirteen languages. Angela has a Masters in Engineering from the University of Oxford and was a Fellow at the Massachusetts Institute of Technology.
Richard Ekins
Richard Ekins is Professor of Law and Constitutional Government in the University of Oxford. His publications include The Nature of Legislative Intent, the co-authored book Legislated Rights: Securing Human Rights through Legislation and several edited collections. He leads Policy Exchange's Judicial Power Project, jointly directs Oxford's Programme for the Foundations of Law and Constitutional Government (with Nick Barber) and edits the American Journal of Jurisprudence (with Jeff Pojanowski). His research has been relied upon by courts around the common
law world and by legislators and officials in New Zealand and the United Kingdom.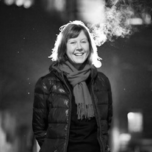 Rosemary Goring
Rosemary Goring comes from Dunbar, and studied history at St Andrews University. She began her career in publishing before becoming Literary Editor of Scotland on Sunday, and then moving to the Herald, the Sunday Herald and the National. Her books include Scotland: The Autobiography: 2000 Years of Scottish History by Those Who Saw it Happen, Scotland: Her Story, and the novels After Flodden and Dacre's War. She is a columnist with the Herald and the Herald on Sunday, writes for a variety of magazines and newspapers, and is a regular abridger of books for Radio 4. She is working on a book about Mary, Queen of Scots, and lives in the Scottish Borders.
2021 Political fiction book prize Judges
Andrea Stuart
Andrea Stuart was born and raised in the Caribbean and studied English at the University of East Anglia and French at the Sorbonne. She is the author of Showgirls (1996), which was adapted into a two-part documentary, and has since inspired a theatrical show, a contemporary dance piece and a number of burlesque performances; The Rose of Martinique: A Biography of Napoleon's Josephine (2003), which won the Enid McLeod Literary Prize in 2004; and Sugar in the Blood: One Family's Story of Slavery and Empire (2012) which was shortlisted for the BOCAS Literary Prize and the Spears Book Award. She has been published in numerous anthologies and her articles have been published in a range of newspapers and magazines.
Bea Carvalho
Bea Carvalho is the head fiction buyer at Waterstones. Based at the Piccadilly head office, she is responsible for the selection and promotion of new fiction titles for the chain's 284 branches and website. She has been a part of the central buying team since 2011, initially working on non-fiction, and previously worked as a bookseller in Waterstones bookshops around London including Hampstead, Oxford Street, and The Economists' Bookshop.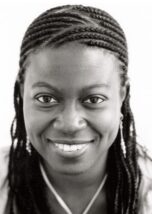 Delia Jarrett-Macauley (Chair)
Delia Jarrett-Macauley, the youngest daughter of a Sierra Leone family, is a writer, academic and arts consultant. Her books include the novel Moses, Citizen and Me, which won The Orwell Prize in 2006, and The Life of Una Marson 1905-65. She has made programmes for BBC radio, taught Women's Studies and Literature at the universities of London and Kent, and is on the faculty of IES Abroad (London). Delia is also known for her pioneering collections Reconstructing Womanhood, Reconstructing Feminism: Writings on Black Women and Shakespeare, Race and Performance: The Diverse Bard. She was Chair of the Caine Prize for African Writing from 2015-2018.
Mark Ford
Mark Ford is a professor in the English Dept. at University College London. He is the author of monographs on Raymond Roussel and Thomas Hardy, and of three collections of essays, the most recent of which, This Dialogue of One, was awarded The Poetry Foundation's 2015 Pegasus Award for Poetry Criticism. He is the editor of London: A History in Verse, as well as of the first two volumes of the Library of America Collected Poems of John Ashbery. His own collections of poetry include Landlocked (1992), Soft Sift (2001), Six Children (2011) and Enter, Fleeing (2018).
2021 Journalism Judges
Carrie Gracie (Chair)
Carrie Gracie grew up in northeast Scotland and set up a restaurant before taking a degree in Philosophy, Politics and Economics at Oxford. She spent a year teaching in two Chinese universities and then built a small film business before joining the BBC in 1987 as a trainee producer. In 2014, she took up a newly created post as BBC China editor and covered all key news stories in mainland China, Hong Kong and Taiwan. In January 2018, Carrie left her post as BBC China editor in protest at unequal pay, publishing an open letter to BBC audiences and giving evidence at a parliamentary select committee. She returned to BBC HQ as a news presenter and continued to campaign for an equal, fair and transparent pay structure at the national broadcaster. In September 2019 she published her first book Equal: How We Fix the Gender Pay Gap and in 2020 she left the BBC to pursue other projects.
Clive Myrie
Clive Myrie  is a multi award winning journalist, one of the BBC's most experienced foreign correspondents and a recognised face as a BBC News presenter. Born in Bolton, Lancashire he studied law at the University of Sussex.​ Clive has served as the BBC's Asia, Africa, Washington and Europe Correspondent. He has a particular interest in US politics, having covered the administrations of three Presidents (Clinton, Bush and Obama,) and reported on the last seven Presidential races, including most recently the election of Joe Biden. As well as presenting the One, Six and Ten 0'Clock News bulletins on BBC One, and hosting news shows on the BBC News Channel, Clive continues to travel the world as a reporter, and makes features and programmes for Panorama, Newsnight and Radio 4.
Iain Martin
Iain Martin is the editor, publisher and co-founder of Reaction. He writes a weekly column on politics for The Times and appears as a commentator on the BBC and CNN. He is the author of the award-winning book Making it Happen: Fred Goodwin, RBS and the men who blew up the British Economy and of Crash, Bang, Wallop: the inside story of Big bang and financial revolution that changed the world.
Kamran Abbasi
Kamran Abbasi is a doctor, journalist, editor and broadcaster. Following five years in hospital medicine, working in various medical specialties such as psychiatry and cardiology, he moved into senior editorial roles at the British Medical Journal from 1997 to 2005. He is now back at The BMJ in a new role as executive editor for content, leading the journal's strategic growth internationally, digitally, and in print.
Rosie Blau
Rosie Blau is Editor of 1843 Magazine, sister publication to The Economist and named for the year The Economist was founded. She joined The Economist in 2011 as a reporter on the Britain section. From 2014-17 she was based in Beijing as China Correspondent. She began her reporting career on trade magazines and worked at the Financial Times from 2002-2011, where her jobs included Books Editor and Leader Writer. She was a judge for the Man Booker Prize for Fiction in 2010.
2021 Exposing Britain's Social Evils prize Judges
Alice Miles
Alice Miles is Director of Strategy and Policy for the Office of the Children's Commissioner. Alice leads on setting and implementing the strategy and business plan for the Children's Commissioner, oversees policy development and communications, and has deputising responsibilities for the Commissioner. Former Associate Editor for The Times and national newspaper columnist of the year, Alice also has a wealth of experience gained at the heart of Government. She was senior policy advisor to the Secretary of State for Education and Minister for Children and Families from 2012-15, focusing on child protection and social work reform, and has also acted as senior policy advisor at the Ministry of Justice and Cabinet Office.

Ian Birrell
Ian Birrell is a columnist and foreign correspondent who won the 2020 Orwell Prize for Exposing Britain's Social Evils for his searing investigation into the abuse of vulnerable people within the healthcare system. Ian is a contributing editor of The Mail on Sunday in foreign reporting and investigations, has a weekly column in the 'i' paper and regularly writes for UnHerd. He has also written for The Times, The Washington Post, The Daily Mail, The Daily Telegraph, The Guardian, The Sun, The Spectator, Tortoise and The Wall Street Journal among others.
Paul Kissack (Chair)
Paul Kissack was previously a Director General in the UK Government working on the national response to the COVID-19 crisis. He has held Director General roles at the Department for Environment, Food and Rural Affairs (DEFRA) and the Department for Education (DfE) and was Deputy Chief Executive for Policy and Organisational Strategy at the Ministry for Children in New Zealand. He has also held senior roles in HM Treasury, the Cabinet Office, and a local authority, and has worked throughout his career on economic and social policy issues and public service reform.
Professor Donna Hall CBE
Professor Donna Hall has been described as a "public service pioneer" by the Mayor of Greater Manchester Andy Burnham. She was awarded a CBE in 2009 for innovation in public service. She was CEO of Wigan Council for 8 years and developed The Wigan Deal – a new relationship with residents which delivered 160 million savings and improved services and resident satisfaction. She is now the chair of the innovative national think tank New Local and the Chair of Bolton NHS Foundation Trust. She was appointed as an Honorary Professor of Politics at the University of Manchester in August 2019 and is a Non-Executive Adviser to Birmingham City Council. Adopted as a child she is passionate about person-centred public services and communities.
Rianna Croxford
Rianna Croxford is an award-winning investigative journalist at BBC News. In March 2020 she was appointed as the BBC's Community Affairs Correspondent with a remit to report on diverse and underserved audiences across the UK and has since also reported for BBC Panorama. She was a Gold Winner in the News category at the MHP "30 to Watch" awards for her news coverage of the coronavirus pandemic and recently won "New Journalist of the Year" at the British Journalism Awards 2020. Rianna worked at the Financial Times while training to become a journalist after graduating from Cambridge University with a degree in English Literature in 2017.