As Orwell himself demonstrated, the strongest writing almost always comes from a place of personal experience and direct observation. Through the last year, we've all been locked down. Many of us feeling like we know our towns, villages, streets and local parks better than ever before. With this year's theme, it's our goal to support you to think hard about your local environment, encourage you to trust your observations and use the authority you have to report and write creatively on the changes you'd like to see to create a better society, starting with what's on your doorstep.
We're just getting started (starting small ourselves). From January to March next year, we'll be launching a suite of resources and interactive ways to engage with the theme. For now, over the Christmas period, we have a small series of quotes, articles, questions and actions we hope will spur some initial thinking around the theme.
We better start with George Orwell the man himself…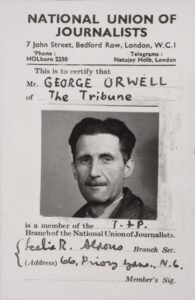 "Political purpose – using the word 'political' in the widest possible sense. Desire to push the world in a certain direction, to alter other people's idea of the kind of society that they should strive after."
Why I Write, George Orwell
"To see what is in front of one's nose needs a constant struggle."
In Front of One's Nose, George Orwell
"I write… because there is some lie that I want to expose, some fact to which I want to draw attention, and my initial concern is to get a hearing."
Why I Write, George Orwell
"Perhaps a man really dies when his brain stops, when he loses the power to take in a new idea."
Coming Up for Air, George Orwell
George Orwell and thinking small
Orwell provides an example of a writer who addressed, in the clearest terms, the major political issues of his day, from economic injustice at home to imperialism and totalitarianism abroad, while also taking deep pleasure in the things which make places and people unique. As a columnist for the magazine Tribune he would write about war in Europe one week, and English cookery the next. His belief in the importance of seeing for oneself was not limited to taking an active part in history, as he did in the Spanish Civil War and the Road to Wigan Pier: it was an everyday injunction. It was only by paying close attention to what is 'in front of one's nose' that the ordinary citizen could equip themselves to resist the barrage of political propaganda they are subject to and see more clearly what steps were necessary to make the world a better place.
More Orwell to read…
Some Thoughts on The Common Toad
A Good Word For The Vicar of Bray
The Lion and The Unicorn (1941)
In Defence of English Cooking (1945)
The Need for a New Direction – Questions and Actions
The world feels overwhelming at the moment. A pandemic, the looming threat of the climate crisis, increasing inequality, and the rise of big data seem insurmountable due to the sheer magnitude of the problems we face. At the same time, the urgency of these threats is galvanising young people like you into action but where do you start when these issues seem incomprehensibly large?
To get you started, you might want to consider:
What does your support network look like? (is it a person, is it online, where is it?)
What do you most like about where you live, what makes it unique?
Think about your daily routine, which bits do you look forward to, which bits could be better and who/what could help you improve your day-to-day?
Go for a walk and examine the built community and nature around you. What do you see? What is worth protecting, and what steps can be taken to ensure that future generations can value the environment?
Research the street names in your local area, who or what is represented? What's interesting/disappointing/exciting about that?
Many young people feel pessimistic about the possibility of changing the future. What do you think is the cause of this pessimism, and what steps can be taken by young people to regain their agency?
The pandemic has increased our reliance on digital spaces and communities. Digital spaces can bring us together, provide entertainment, joy and help us learn, but they also raise concerns about privacy, status anxiety, and the impact of constant connectedness have been brought to the fore. How do you relate to the online world? What problems can you identify with digital spaces, and what could be done to address these?
In addition, we have included a few links below for you to explore how to approach this question. We will update this list throughout the course of the prize, but your reading should not be limited to the list below. Be inquisitive and critically engage with news items and articles you read.
Climate Change and Local Action
Read
Listen
Orwell Youth Prize Inspiration
Education
Read
Listen
Orwell Youth Prize Writing
Public Spaces
Read
Listen
Watch
Place and Identity
Read
Listen
Watch
Orwell Youth Prize Inspiration
Work
Read
Listen
Orwell Youth Prize Inspiration
Housing
Read
Listen
Orwell Youth Prize Inspiration
Daily Life & The Self
Read
Listen
Orwell Youth Prize Inspiration
Local Democracy
Read
Writing Advice (new writing, short stories, writers discuss their work)
Read
Our writing resources:
Also remember that all youth prize winners and runners up from 2019 and 2020 gave their own writing advice, visible in interviews at the bottom of their pages
Listen
Watch
If you have any further questions, suggestions, or thoughts, please get in touch with Alex Talbott, alextalbott@orwellyouthprize.co.uk