The Orwell Youth Prize is pleased to reveal our shortlisted entrants for the 2022 Prize!
This year, our theme was 'Coming up for Air: Writing the Climate Crisis.' We received 425 entries, in the form of stories, essays, articles, poems, scripts, and everything in between.
After a careful reading process, 40 entries were shortlisted to be read by our prestigious panel of judges: Professor Michael Jacobs, environmental economist and author; Nada Farhoud, the environment editor at The Daily Mirror; Gillian Clarke, the National Poet of Wales between 2008-2016; and Dan Bernardo, the founder of Playtra Games. The reading process has remained anonymous throughout – the only information the readers and judges received about the entrants was their school year.
All shortlisted entrants have been invited to our Celebration Day at University College London on 9th July, where the winners will be announced. The winners and runners up will have their pieces published on our website following the Celebration.
Thank you again to everyone who entered this year and trusted us with your writing – it was a pleasure to read such an exciting variety of responses to the theme.
Richard Blair, Orwell's son, sends this congratulations message to the shortlisted entrants:
Here is the full list of our shortlisted entrants for this year's prize:
Senior Entrants:
Toni Agbede, Hi! Yes, Western World Speaking
Christopher Batten, Cities Green Not Grey
Danny Davies, A Call for Climate Action from a Warped Perspective
Creagh Factor, The Milk River
Wilf La Fontaine Jackson, Coming up for Air: Coronavirus and the Climate Crisis
James Lomax, The Conundrum of the Fossils
Peter Longstaff, Climate Change: Social or Science?
Karensa López, Revelations
Lia Marziano, Mother of Nature
Eleanor Mead, 2054
Prior Policarpo, Walking and Talking
Alexander Prvulovich, Air Cannot Save Air
Eddie Rose, Mirror to a Malformed Future
Cerys Shanks, Blackpool
Jennifer Wolfe, Out Of Time?
Junior Entrants:
Oluwatoni Adesanya, The Power of One
Evie Alam, Destination – Underwater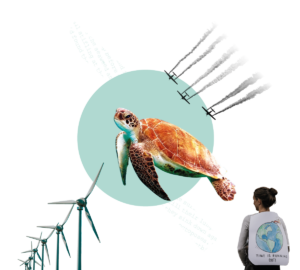 Poppy Buckland, End of My Story
Maia Betts, Shein, the Self, and Sustainability
Keanu Booth, On Shrooms
Serena Chahal, Food, Us and Our Fragile Eden
Aarushi Dahiya, The Law of the Jungle
Noah Dryden-Pell, Push The Button
Megan Halton, Coming up for Air: Writing the Climate Crisis
Isabel Harris, Imagine That
Josephine Harris, Visitors
Eva Ho, The Dust Monsters
Ruby Kalayil Peacock, Women and Climate Change
Divya Lambotharan, The World's Woeful Tale
Nidhi Mahajan, Ad Infinitum
Catie May McAleese, 'Are not two sparrows sold for a penny?' Mark 10:29
Ruby McIntee, The Ethics of a KitKat
Mia Pritchard, Eden
Eleanor Reith, The Horror Film
Emily Rowe, Who To Save
Sancia Saju, The Great Fall
Harry Sharma, Sonnet 2043
Lila Silk, Superstitions
Angus Snowdon, Gas Mask Paradise
Jonathan Webb, Still Going Round the Sun
Watch this space for news regarding our winners coming soon!