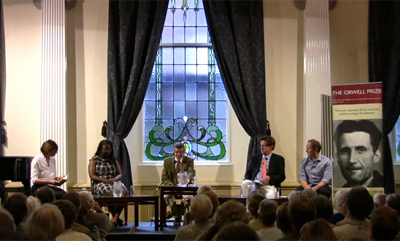 Chris Cleave (award-winning author of Incendiary and The Other Hand/Little Bee)
Delia Jarrett-Macauley (winner of the Orwell Prize 2006 for Moses, Citizen and Me)
Marina Lewycka (author of A Short History of Tractors in Ukrainian, the Orwell Prize-shortlisted Two Caravans, and We Are All Made of Glue)
Robert McCrum (Associate Editor and former Literary Editor of The Observer)
Chaired by Matthew Parris (winner of the Orwell Prize for Journalism in 2005)
The Orwell Prize was delighted to bring one of its famous lively discussions to Buxton for the first time, asking: what makes a good political novel? How are they different from other novels? Are plot, characters and good writing sacrificed to make political points? Indeed, is it even possible to write good political fiction?
Buxton Festival
Buxton Festival: Andrew Brown in Conversation
Orwell Prize at the Buxton Festival 2010
Buxton Festival Blog: The Orwell Prize at Buxton
Robert McCrum: A literary festival that is in truly Peak condition
Video
[youtube]http://www.youtube.com/watch?v=-lemuKX-IUM&hd=1[/youtube] [youtube]http://www.youtube.com/watch?v=tByurCL1PUk&hd=1[/youtube] [youtube]http://www.youtube.com/watch?v=rpH0byvyun8&hd=1[/youtube] [youtube]http://www.youtube.com/watch?v=bUdFCVH54QQ&hd=1[/youtube] [youtube]http://www.youtube.com/watch?v=5ysH0Lsv5xw&hd=1[/youtube] [youtube]http://www.youtube.com/watch?v=eowF_x5B3YE&hd=1[/youtube] [youtube]http://www.youtube.com/watch?v=UTBqepW-Bvk&hd=1[/youtube] [youtube]http://www.youtube.com/watch?v=ZJvVW2t4bQA&hd=1[/youtube] [youtube]http://www.youtube.com/watch?v=uL07YIRqa0E&hd=1[/youtube] [youtube]http://www.youtube.com/watch?v=8B4_V1yO9FU&hd=1[/youtube]