The Orwell Youth Fellows are the winners and runners up of the 2020, 2021 and 2022 Orwell Youth Prizes. Together, the group are forming ideas, starting conversations and developing writing that is responsive to the society we are living in and that supports engagement with the prize.
Cerys Shanks
I am a seventeen year old college student who greatly enjoys both writing and reading. My Orwell Youth piece was focused on how climate change is impacting sea levels. I presented this in the form of a narrative centred around Blackpool. My main subjects of personal interests lie in classical civilisations, particularly in the treatment of women in the ancient world. Their roles and how they are presented in both mythology and literature carries elements that have remained over time, and I find the subject extremely interesting. 'The Silence of The Girls' by Pat Barker addresses the erasure of women's voices in the classical epics and the dehumanising treatment they suffered, and is an incredible read.
Toni Agbede
Toni Agbede is a 17-year-old sixth-form student, studying French, Spanish, English literature, and Geography, and a senior winner of the Orwell Youth Prize in 2022. The idea for her poem 'Hi! Yes, Western World Speaking' stemmed from a geography lesson, in which a brief mention of the inequalities in the climate change narrative led her to research the topic further and inspired her to write about it in her entry.
She is highly interested in how different countries approach issues such as climate change, immigration, and the law, and she is currently reading 'Immigration and Democracy' by Professor Sarah Song from the University of California, Berkeley to learn more about the topic.
Jennifer Wolfe
Jennifer Wolfe is a Cambridgeshire 18-year-old going into her first year of university to study Anthropology at Kent. She was one of the senior 2022 winners of the Orwell Youth Prize with her poem 'Out Of Time¿', which focused on the effects of rising temperatures on the natural world, specifically plants and their development. Jennifer is interested in biology and history and understanding the natural world around her, often theming her poetry around the environment. Her favourite genres include pre-war classics (Bronte, Austen etc) and historical fiction.
She is currently reading 'I, Claudius' by Robert Graves, however, her favourite book is any of the 'Lord Of The Rings' trilogy, closely followed by 'Mansfield Park'.
Creagh Factor
Creagh, 17, is a student passionate about expressing herself and encouraging young people to speak up in all areas of their lives.
She is an avid poet, and was a senior runner-up in the 2022 Orwell Youth Prize for her poem 'The Milk River' exploring our changing relationship with our rivers and oceans. Outside of her writing, Creagh is an award-winning public speaker, having represented the country in debating on Team England in 2021. Whether through the written or spoken word, she aims to explore our polarised, turbulent political climate and encourage her audience to think critically about our society.
Creagh loves exploring mythology and folklore and is currently reading the Mabinogion.
Eleanor Mead
Eleanor is a 17 year old student from London currently studying English Literature, History and Psychology. She was a senior 2022 runner up with her short story '2054', exploring the impact of climate change in both hemispheres to demonstrate its far reaching effects. Eleanor hopes that her writing will inspire people to be more considerate of both the environment and one another.
James Lomax
James is a 17-year-old student from Berkshire and is currently studying English Lit, Biology and Geography. He hopes to one day gain a degree in Palaeontology in order to professionally harness his love for natural history.
His 2022 Senior Runner-Up entry, 'The Conundrum of the Fossils', uses the protection of fossils as a metaphor for the protection of the natural world in order to show the hypocrisy and apathy of the general public and those in power. James believes that the stability of the natural world is integral to the stability of the human race, and if nature suffers then so do we. He likes to write about both the power of nature and the power of a positive outlook in bleak situations.
He is currently reading 'The Rise and Reign of the Mammals' by Steve Brusatte.
Oluwatoni Adesanya
Hello everyone! I'm Oluwatoni Adesanya, 13 years old and I attend Newstead Wood School. I love swimming and playing netball and cricket, and my favourite subjects are History, Physics, English and Maths.
I was a Junior Orwell Youth Prize winner in 2022 for my story, 'The Power of One', in which I discussed the effects climate change has on perceived third-world countries, and how first and second-world countries contribute to that. My major aim as a political writer is to highlight the inequalities and disparities brought about by socio-economic and political issues between different factions.
Currently, I'm working on a novella that started out as magical realism (and has now evolved into a violation of the laws of physics). I'm presently reading Under The Dome by Stephen King.
Evie Alam
Hi! I'm Evie, a 15-year-old student from the north east of England. I was a junior winner in 2022 for my poem 'Destination – Underwater,' which discusses the harrowing impacts of rising sea levels and imminent consequences for several different countries across the globe. In my spare time, I enjoy writing about a wide range of topics, such as racial discrimination and the climate crisis. I'm particularly passionate in using poetry as a vehicle to move forward in fighting inequality and am currently reading Klara and the Sun by Kazuo Ishiguro.
Aarushi Dahiya
Aarushi Dahiya is a 16-year-old student, currently in her first year of the IB Diploma programme. She is studying English Literature, Mathematics, Physics, Chemistry, Economics and French. She won the Junior Prize in 2022 with her short story 'The Law of the Jungle'. Inspired by Orwell's Animal Farm, she envisioned a world where animals, frustrated by human inaction, have seized control and rescued the Earth from catastrophe. She is interested in democratic backsliding and its implications for women's political participation, particularly in her native India. Furthermore, she is passionate about using her writing for science communication. She is currently reading more books simultaneously than ought to be allowed; the main two are Sophie's World and Emma.
Ruby McIntee
Ruby McIntee is from Dundee, Scotland and is a 2022 Junior Orwell Prize winner. Currently studying Higher Maths, English, Economics, History and Modern Studies, Ruby is passionate about politics and philosophy. Her piece was about the impact of everyday consumer choices on the environment, notably focusing on the difficulty separating yourself from a system which rewards unethical consumption. She is an editor for her school's newspaper, and was commended in the 2021/22 Scottish Schools young writer of the year essay completion, for a piece on the addictive effects of  TikTok on young people. Outside of writing, Ruby enjoys debate, is an avid reader and works as a lifeguard.
Noah Dryden-Pell
Hello, my name is Noah and I am 15 years old. I'm from West London and was a runner up in the 2022 Orwell Youth Prize for my piece 'Push the Button', a short story set in a dystopian near-future about humanity's failure to adequately tackle the climate crisis. One of my main interests is the process of dramatic adaptation; how texts are transformed from prose into plays. In addition to writing, I am passionate about acting and hope to work in theatre in the future.  Currently, I am reading 'Ghost Signs' by Stu Hennigan.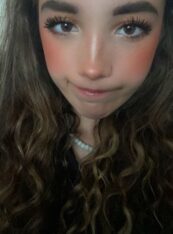 Maia Betts
I'm Maia and I'm currently in year 11 working hard towards my GCSE's. I want to study English, History and Art (maybe French) at A-level next year.
I love reading, my favourite authors are Sylvia Plath, Sally Rooney, Oscar Wilde and Virginia Woolf, when I'm not revising or reading I listen to music; Harry Styles, Taylor Swift, The Arctic Monkeys and The Smiths, go to concerts when I can, and love watching movies, the classics and new releases.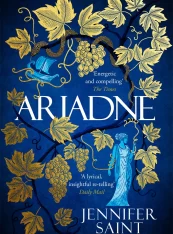 Ruby Kalayil-Peacock
Ruby is a 16-year-old A-level student, studying English Literature, French and History. She was a junior runner up for the Orwell Youth Prize in 2022, with her piece on how women are affected by, and are working to combat, climate change across the world. She hopes to continue writing to illuminate issues that are close to her heart and that she feels are especially pertinent in this day and age, something George Orwell himself was particularly adept at and famed for.
Ruby loves to read, and is currently reading Ariadne by Jennifer Saint. She particularly enjoys books about Classical mythology, but her favourite book is The Book Thief by Markus Zusak.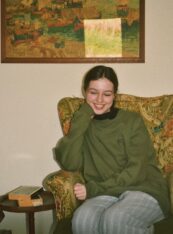 Anya Edgerton
Anya is a 16-year-old student from the Isle of Wight studying Chemistry, Biology, French and English Literature. She was a 2021 junior winner of the Orwell Youth Prize with her short screenplay 'A Small Thing' which explores students' relationships with the texts they study, and realising that their own words are just as important as those in their textbooks. Anya often gets very angry about the chronic individualism in our society and its far-reaching tentacles of suffering, as well as overwhelming issues such as class, race and climate change-and tries to channel that anger and overwhelmed-ness into some kind of productive action. She is probably trying to read 8 books at the same time, the script of Fleabag (again), or the work of Kae Tempest.
Faith Falayi
Faith Falayi is an 18-year-old from Cambridgeshire who is about to start her first year studying English at Robinson College, Cambridge. She aspires to use her writing as a means for social change, a tool to reflect and bring to light issues facing society.
Her senior winning prize poem 'New Hair, Who Dis (Dear Mrs Johnson)' explores the beauty of black hair and self-expression. Following the 2020 Black Lives Matter movement, she hopes that art and literature may become a way for black people to celebrate their identities, as well as educating others about the black experience.
Faith is currently reading "Things Fall Apart" by Chinua Achebe.
Bella Rew
Hello! My name is Bella and my poem 'Two for Joy' was one of the senior winners of the 2021 Orwell Youth Prize. I wrote it inspired by the new kinship myself and many others experienced with nature over lockdown and the harsh reality that we might lose this relationship to climate change inaction. I'm a passionate intersectional feminist and try to engage with all areas of global and national politics. I'm also a keen actor and love historical fiction such as 'Wolf Hall' by Hilary Mantel. I believe all writing has the power to illuminate social issues and pressure political power which is why I hope to have a career as a writer one day! I'm going into my first year studying English at Corpus Christi College, Cambridge and am currently reading 'The Warrior Queens: Boadicea's Chariot' by Antonia Fraser.
Jennifer Yang
Hi, I'm Jennifer, I go to Oundle school and am about to start my A-levels in September! I am an avid reader (especially interested in Modernist literature) and I relish writing creatively in my free time. I've been lured into writing by the immense power of words–these squiggly lines have somehow made their way into our lives, our minds, and have inspired us to think, to dream, and to combat injustices. Growing up, I've always read western literature, nonetheless, my early upbringing in China has reminded me frequently that I should never cease writing about the place I call home. Having lived in the UK and China, I've witnessed divisions in opinions, values, and perspectives, but I believe there is something universal in us, in humanity, that is able to bring us together. Great writers strive to find this universality, and I hope I can join them in this search.
I am a big fan of Virginia Woolf, although I find it difficult to understand her writing from time to time (which is part of the fun). I've just finished reading 'The Unbearable Lightness of Being' by Milan Kundera (loved it), and am now moving onto 'Persuasion' by Jane Austen.
P. S May I just say that there's always too much to read, too little time!
Jude Leese
I am an 18-year-old film student from London and a 2021 senior winner for my piece "Work Experience As A Young Campaigner". The poem is based on my personal experiences of grassroots politics, and is intended as a tribute to the hard work done by local councillors everywhere. While I entered a poem for the prize, my main area of interest is film, and I hope to combine both my interests in film and politics in my future work. My influences include such directors as Hal Ashby, Stanley Kubrick and Jean-Luc Godard, and my favourite book is "Easy Riders, Raging Bulls" by Peter Biskind.
Laurell Jarrett-Anderson
Laurell Jarrett-Anderson is a 17 year old A Level student from Bristol, who currently studies English Language, Psychology and Sociology. She was a senior runner up in 2021 for her piece 'Notes On Being Black', which explores racial issues in a modern context and delves deeper into the harsh reality of racism online. With a keen interest in the fashion industry and a passion for writing, she hopes to go on to complete a degree in Fashion Journalism at university.
Laurell is currently reading 'Kitchen' by Banana Yoshimoto!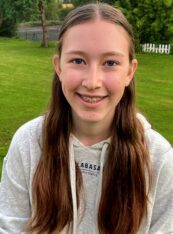 Marnie McPartland
Marnie McPartland is a 16-year-old student from London studying English Literature, History and Latin. She enjoys voicing her opinions through her writing and submitting articles for community publications. Marnie volunteers at her local library for a children's reading scheme, and at an Oxfam bookshop.
Marnie was a runner-up in the 2021 Orwell Youth Prize for her piece 'Equality in Education'. Her piece, written in the style of a newspaper article, imagined a future where elite university entrance was available for the highest achieving pupils at every school in the UK. This would mean that any pupil would have the chance to attend a top university, irrespective of their school education and background.
Some of Marnie's favourite books include 'Rebecca' by Daphne de Maurier and 'The Last King of Scotland' by Giles Foden, and she is currently reading 'The Color Purple' by Alice Walker.
Max Baker
Hi! My name is Max Baker and I'm from Maidenhead in the South East. I love reading and used to devour fantasy books down at my local library until the pandemic struck and I began to take a closer interest in the conduct of the public figures who lead our country. George Orwell's writing was always inspirational to me as it was simultaneously artistic, down-to-earth, and politically profound. His proactive approach to research and writing inspired me to explore the social and cultural trends I've observed during the pandemic (resulting in my story's "Network"–the shadowy master-of-puppets social media-government). Since then, I've been trying to develop my political thoughts and explore different ways of running the countrylike sortition and participatory budgeting schemes.
Ruby Alexander
Ruby is an 18-year-old first year Geography student at Durham University. She was a runner up in the 2021 Orwell Youth Prize for her essay 'Mending the Safety Net', which explored new strategies to reduce homelessness, and is interested in how inequality affects society and the ways in which we can most effectively tackle it.
Ruby is currently reading Border Nation by Leah Cowan.
William Walker
My name is William. When I was 13, I was a Junior Winner of the Orwell Youth Prize, 2021. I wrote to raise awareness about the plight of the UK wetlands and the way we can help restore them. Attenborough once said, "No one will protect what they don't care about." I care that we could lose UK species, like curlews, so through environmental writing I hope to raise awareness of the biodiversity crisis: I was a finalist in the Wicked Young Writers Awards and contributed to the Youth Fellows Zine. I enjoy history, nature, photography, English, playing violin and electric guitar.
Varscha Arul
My name is Varscha Arul and I am 15 years old from Milton Keynes. I'm currently a student at Aylesbury High School and I'm also a junior runner up for this year's Orwell Prize for my speech called 'Why.' It focuses on shedding light to the social injustices and inhumane acts that are taking place in Sri Lanka to Tamilians as a result of the 25 year long civil war. With my speech, I was determined to not only highlight the oppression and violation Tamil people face at the hands of their own government but to also point out the deafening silence and ignorance of the rest of the world.
Marnie Rauf
I'm Marnie, an 18 year old student, studying English language, literature and sociology. My piece was inspired by Elizabeth Gaskell's 'North and South'. Being from the North east, the novel instantly resonated with me. Therefore, I decided to write about my own experiences here. My piece is mostly non fiction, and follows my trajectory of small persistent changes that led to my personal success. And most importantly, how a kind, then stranger, saw potential in me, inspiring confidence in myself.
I'm currently reading 'Mary Barton', also by Gaskell and set in the North East. I prefer 19th century literature, especially works like hers that are particularly cathartic, that have been effective for increasing my empathy.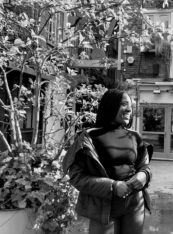 Mya Basiime
Mya Basiime is a 16-year-old student, studying English Literature, Economics, Spanish and History. She is deeply motivated by the prospect of an equitable and fairer society and the structural inequalities which continually pervade society – a topic she explored in her essay 'What he left me with'. She looks to writing as a source of motivation and a form of catharsis, hoping to use language as a tool of compassion.
Mya is currently reading The Guest List and the works of Chimimanda Ngozi Adichie.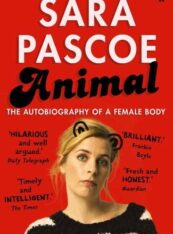 Helen Chick
Helen is a 16 year old student and was a junior winner for the Orwell Youth Prize in 2020 for her poem "To The Boy Considered My Equal" which talks about the everyday sexism young girls go through in their lives. She is interested in the systemic oppression that many everyday people face and how literature and writing can make a difference in the world. She is currently reading Animal by Sara Pascoe.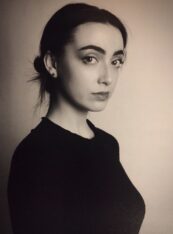 Lauren Debruin
Lauren DeBruin is a first year English student at Emmanuel College, Cambridge. She is originally from Hertfordshire and was a winner of the senior prize 2020. Lauren's short story, 'What We Lost', explored the possible future our planet could face if we do not work to combat climate change immediately. As well as the climate crisis, Lauren is determined to illuminate the disparities between privately and state educated students, and is dedicated to intersectional feminism in her work.
The variety of periods, genres and forms Lauren studies in her degree have enabled her to understand the different ways a writer may choose to deliver their message, and how a reader may interpret them.
Grace Donaldson
Grace is a 17 year old student from Scotland currently undertaking Advanced Highers in both English and Modern Studies, as well as A-Level History. She was a runner-up in the 2020 Orwell Youth Prize for her short story 'Perpetual', and hopes to further her abilities as a writer with a degree in English and Media Studies. She is passionate about structural inequality, and hopes to use her work as a platform to explore potential areas for change.
Grace is currently reading 'A Streetcar Named Desire' by Tennessee Williams.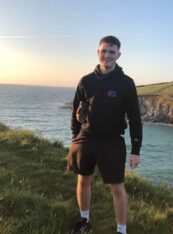 Tom Finlayson
Tom Finlayson is a 16-year-old from Dronfield studying English Literature, History, French and Film Studies A Levels.  He is interested in the future issues facing the world and considering how inequality interacts with these, fascinated by the way geography, class, sex, race, employment and age affect people's lives.
He won the junior Orwell Youth Prize with his short story Not So Welcome Break, which explores the issues of automation, renewable energy and growing inequality.  As these issues come more and more to the forefront of our lives, it asked the question of how we should balance the greater good with achieving widespread fairness and equity.
Tom is a big fan of The Godfather by Mario Puzo and is currently reading Catch-22 by Joseph Heller.
Molly Hammerton-Woodhouse
I am an 18 year-old A-Level student based in Rotherham who is studying English Literature, English Language and Psychology. I am interesting in all parts of the human psyche, which may relate to my fascination with the Gothic and unnerving. As well as delving into the dark, I am passionate about the fight against climate change and social inequality for people of all walks of life, something that my poem for the 2020 Orwell Youth Prize – 'The Future' – explored using a dystopian construct. I love dystopia; some of the books that have had the most profound effect on me are from the dystopian genre such as 'Warm Bodies' by Isaac Marion and 'The Maze Runner' series by James Dashner. However, my favourite book is 'Stalking Jack the Ripper' by Kerri Maniscalco.
I am currently reading 'The Wicked King', the second book in 'The Folk of the Air' series by Holly Black which is a young adult fantasy series with many morally ambiguous characters – something I would like to work on in my own writing.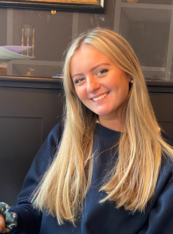 Madeleine Hobern
Madeleine Hobern is a first year Architecture student at Corpus Christi College, Cambridge. She is driven by creating a world where the built environment can serve as a basis for social equality, climate progression, and collective wellbeing. Inspired by current events, Madeleine's essay on 'Designing for Distance', achieving runners up prize in 2020, illustrating how the Coronavirus pandemic is impacting on the architecture of today and tomorrow. She has a keen passion for learning from the past and present to develop beneficial environments for the future.
Madeleine is currently reading Frank Lloyd Wright's Natural Design, Organic Architecture: Lessons for Building Green.
Hugh Ludford
I am a 15 year old schoolboy from the East of England. I love sport, especially running, hockey and cycling, because of the freedom associated with exercise. I find a similar kind of escape in books. Derek Landy said that he is every book he's ever read, the sum of his obsessions. Given this, I am The BFG, I am How To Train Your Dragon, I am Harry Potter, I am definitely Skulduggery Pleasant, and I am the Book Thief. (I mostly like to think of myself as Alex Rider, though!) I think being the sum of what you have read is very true, as these books will influence you throughout your life.
I am currently reading The Cousins by Karen M. McManus, but I have a very diverse taste and it could be anything after that.
Manal Nadeem
Manal Nadeem is a 19-year-old student – although she likes to think of people-watching as her part-time job: it brings her enormous satisfaction to take notice of the world – its characters, its plotlines and problems – then pour these reflections onto paper. She is particularly interested in writing that engages with the sociopolitical as a kind of megaphone to amplify marginalised causes. To this end, she wrote the essay, 'The Poverty Pandemic', which was a Senior Runner Up for the 2020 Orwell Youth Prize.
Her favourite books include A Room of One's Own by Virginia Woolf and anything by Arundhati Roy or Jhumpa Lahiri.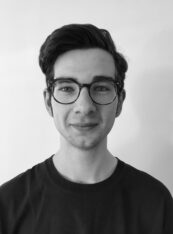 Noah Robinson
Noah Robinson is a playwright and performer. He was a runner-up to the junior prize in 2020 for his play 'Here There Are No People', praised by Kayo Chingonyi for its "exciting combination of styles" and Tishani Doshi for its sensitivity in "leading into questions of oral history, memory and collective trauma". 
His other work includes 'Now, I have become Death' for Modern Art Oxford, 'Idola' for the Orwell Youth Fellows' zine 'Axial Tilt' and projects with Phosphoros Theatre and The Paper Birds at the National Theatre. He made his debut performance at the National Theatre as part of River Stage in August 2022. 
He is studying Law at the University of Bristol but is originally from Reading. 
Jamie See
Jamie See is a 15-year-old student in Winchester. She was a junior runner up in 2020 for her collection of poems 'A Love Symphony to the World', where she explores the inequalities and problems faced by the average person, while advocating for hope in the future. In her free time, she enjoys reading all genres of books, writing poetry and debating about social injustices. She believes writing is an expression of one's thoughts and feelings, and sees literature as a reflection of the human experience.
Jamie is currently reading Woman on the Edge of Time by Marge Piercy.
Naomi Thomas
Naomi Thomas is a 17-year-old writer from Sheffield. She was a senior runner up in the George Orwell Youth Prize 2020, one of five shortlisted writers for the BBC Young Writers' Award 2020, and highly commended for the Young Northern Writers' Award 2020. She is particularly passionate about fighting to stop the current climate crisis, and hopes to use her writing in order to do this, after being inspired by the way authors such as Charles Dickens and Victor Hugo have battled for social justice in the past.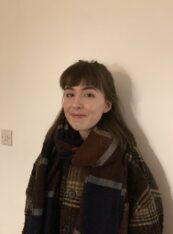 Rosaleen Tite-Ahern
Rosaleen Tite Ahern is a 19 year old gap-year student from South Manchester. She writes for and volunteers with the charity Youth Leads, and is a representative on the GMYCA. Next year she will be attending Durham University to study Archaeology and Anthropology. Rosaleen was a senior winner in 2020. Her essay 'Streets in the Sky' explored the relationship between architecture, communities and hope, through the story of the 1960s slum demolition in Hulme. She wants to use her work to promote cooperation and empathy, and to shine a light on untold stories.
Rosaleen is currently reading 'The Book of Trespass' by Nick Hayes, and would absolutely recommend 'Humankind' by Rutger Bregman.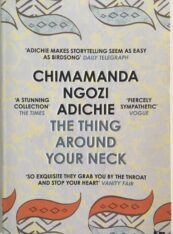 Jessica Tunks
Jessica Tunks is an 18 year old A Level student from London, who currently studies Biology, English Literature, Photography, and Psychology. She hopes to go on to complete a degree in Psychology at university. She was a senior winner in 2020 for her piece 'Knifepoint', an article about the possible causes of and solutions to the problem of youth violence, drawing on personal experience and case studies from successful Violent Reduction Units to build her case. She is passionate about many social justice issues and hopes to continue to use her writing to fight for a fairer world.
Jessica is currently reading 'The Thing Around Your Neck' by Chimamanda Ngozi Adichie.