"My starting point is always a feeling of partisanship, a sense of injustice. When I sit down to write a book, I do not say to myself, 'I am going to produce a work of art'. I write it because there is some lie that I want to expose, some fact to which I want to draw attention, and my initial concern is to get a hearing. But I could not do the work of writing a book, or even a long magazine article, if it were not also an aesthetic experience."
George Orwell, Why I Write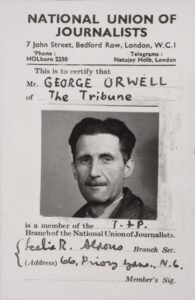 George Orwell is one of the world's most influential writers, the visionary author of Animal Farm and Nineteen Eighty-four and eyewitness, non-fiction classics Down and Out in Paris in London, The Road to Wigan Pier and Homage to Catalonia.
George Orwell was born Eric Blair in India in 1903 into a comfortable 'lower-upper-middle class' family. Orwell's father had served the British Empire, and Orwell's own first job was as a policeman in Burma. Orwell wrote in "Shooting an Elephant" (1936) that his time in the police force had shown him the "dirty work of Empire at close quarters"; the experience made him a lifelong foe of imperialism.
By the time of his death in 1950, he was world-renowned as a journalist and author: for his eyewitness reporting on war (shot in the neck in Spain) and poverty (tramping in London, washing dishes in Paris or visiting pits and the poor in Wigan); for his political and cultural commentary, where he stood up to power and said the unsayable ('If liberty means anything at all it means the right to tell people what they do not want to hear'); and for his fiction, including two of the most popular novels ever written: Animal Farm and Nineteen Eighty-Four.
The Orwell Foundation maintains a wealth of Orwell resources, free to access online, from Orwell's essays and diaries, to a library of work about Orwell and his writing. Read on for an extended biography written by D.J. Taylor. Taylor is an author, journalist and critic. His Biography of Orwell, Orwell: the Life won the 2003 Whitbread Biography Award.
As part of our wider commitment to promote knowledge and understanding of Orwell's life and work, the Foundation also regularly releases new short educational films. These are free to access on YouTube and include contributions from Orwell's son Richard Blair, D. J. Taylor, and previous winners of the Orwell Prizes:
External links: