Are you a poet, playwright, journalist or game designer?
The Orwell Youth Prize encourages writing in all different forms: poems, essays, stories, articles, speeches, scripts, and game designs… but which form is right for what you want to write?
Once you've researched your topic, it's time to start thinking about how to shape all your ideas into a piece of writing. There are different advantages and opportunities offered by all different forms of writing, and we encourage you to take your time, and try out different options, when thinking about which form you want to write in for your Youth Prize entry.
On that note, you might like to read our new resource from writer and poet Will Harris – and try some of Will's challenges.
Finding a form can be all about experimenting and exploring. You might start off writing an article and along the way it starts to become a fiction piece – or you begin a poem and then decide to turn it into a script! Take your time, try out ideas and find what works for you.
To help you with this process, check out our form guides below for more information on the different forms, as well as examples of writing in these forms from professional writers, and from previous Youth Prize winners and runners up.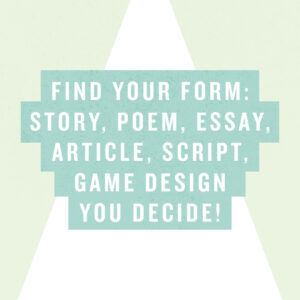 Guide to Form – Drama and Screenplays
Game Design Template Word Document