The Orwell Foundation is administrated by a small team lead by the Director, Professor Jean Seaton. The Foundation is based at University College London's Institute for Advanced Studies.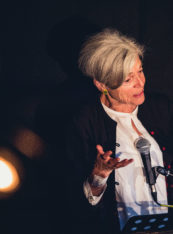 Professor Jean Seaton
Director
Jean Seaton is Professor of Media History at the University of Westminster and the Official Historian of the BBC. Jean became Director of The Orwell Foundation (then, The Orwell Prize) in 2007, taking over from Sir Bernard Crick. Under her stewardship the prize has become Britain's premier prize for political writing, celebrating honest writing and reporting, confronting uncomfortable truths and uncovering hidden voices. She is the author of Carnage and the Media: the Making and Breaking of News about Violence (Penguin, 2005), with James Curran, Power without Responsibility: the Press and Broadcasting in Britain (8th edition, 2014) and Pinkoes and Traitors: the BBC and the nation, 1974-1987 (2015), serves on the board of the journal The Political Quarterly and is a founding member of several active media NGOs, including Full Fact and the Reuters Institute. She broadcasts regularly on historical, political and cultural matters, including Orwell and his legacy.
director@orwellfoundation.com
Jeremy Wikeley
Head of Policy, Digital and Journalism Prizes
Jeremy is Head of Policy, Digital and Journalism Prizes. He also edits the Foundation's website and resources. Jeremy has previously worked in the office of an MP and as a teacher of English as a foreign language. His favourite Orwell book is Keep the Aspidistra Flying, although any similarities between him and the protagonist Gordon Comstock (a disaffected poet living in south London) are wholly coincidental.
jeremy.wikeley@orwellfoundation.com
Alex Talbott
Programmes Manager, The Orwell Youth Prize
Alex leads on the Orwell Youth Prize, an independent charity under the auspices of The Orwell Foundation. Previously she worked within the Culture Team at King's College London, and for the European Foundation Centre in Brussels. Alex has a soft spot for Orwell's Down and Out in Paris and London, enjoying the comical characterisation and frank commentary. She can also relate to the hierarchies and habits of working in hospitality, and while a Suffolk pub isn't quite 1920s Paris, the horrors of pot wash still loom large from her teen years as a waitress.
alextalbott@orwellyouthprize.co.uk
Jordan Dilworth
Assistant Prize and Programme Coordinator
Jordan is the Assistant Prize and Programme Coordinator and supports the running of our flagship programme, The Orwell Prizes, alongside a broader programme of events. He is currently studying towards a part-time master's degree in Political Theory at LSE and was previously a private secretary at the Department for International Trade. Due to Jordan's student summer jobs in hospitality, he finds that Orwell's observations on the life of a plongeur in Down and Out in Paris and London have a special resonance, although his working environment had more of a resemblance to The Office than the strict class hierarchy of 1920s Paris.
jordan.dilworth@orwellfoundation.com