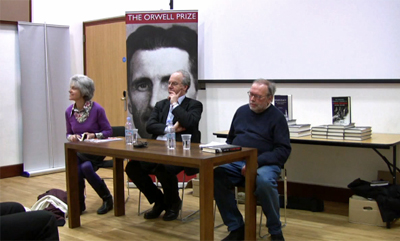 Ian Jack (journalist, author of The Country Formerly Known as Great Britain, Orwell Prize 2009 judge)
Peter Kellner (Orwell Prize 2010 judge, President of YouGov, author of Democracy: 1000 Years in Pursuit of British Liberty)
Chaired by Jean Seaton (Director of the Orwell Prize)
The fourth of the Orwell Prize's events at the Sunday Times Oxford Literary Festival 2010.
With a General Election imminent, it's a good time to consider what the future might hold for the UK. How different will its destiny be, depending on the result of the election? Will we experience as much change in the next half-century as we have in the last 50 years? And will there even be a "Great Britain" in the near, let alone distant, future? Our distinguished panel will share their thoughts on past, present and times to come.
The Orwell Prize: Are political parties bankrupt?
Sunday Times Oxford Literary Festival
Orwell Prize events at the Oxford Literary Festival 2010
Orwell Prize events at the Oxford Literary Festival 2009
Orwell Prize event at the Oxford Literary Festival 2008
Video
[youtube]http://www.youtube.com/watch?v=MzD_iR5QULI&hd=1[/youtube] [youtube]http://www.youtube.com/watch?v=G1cj6XXtEgI&hd=1[/youtube] [youtube]http://www.youtube.com/watch?v=b6zUtuXqNJk&hd=1[/youtube] [youtube]http://www.youtube.com/watch?v=yZuY8MiK_Hk&hd=1[/youtube] [youtube]http://www.youtube.com/watch?v=Er57uPxDNY8&hd=1[/youtube] [youtube]http://www.youtube.com/watch?v=faN6gOOUGxQ&hd=1[/youtube] [youtube]http://www.youtube.com/watch?v=TntvFbXWwLE&hd=1[/youtube] [youtube]http://www.youtube.com/watch?v=mvT85bbF0BY&hd=1[/youtube] [youtube]http://www.youtube.com/watch?v=JpuFGZN9wt8&hd=1[/youtube]