Hannah is the first prize winner in the Poetry and Political Language Challenge on Young Poets Network, in partnership with the Orwell Youth Prize. She is the second prize winner in the second Bloodaxe Archive challenge, about White Space, and is commended in the fourth Bloodaxe Archive challenge, Take Note. She is also the second prize winner in the 19-25 age category in the Turn Up the Volume challenge. Hannah is additionally a winner in the 2016 Young Poets Network August Challenge #2, as well as a commended poet in August Challenges #1 and #4. She is also a winner in the 2016 Behind the Curtain poetry challenge, in partnership with the V&A Museum, and the winner of the 2016 Even It Up Poetry Challenge in the 15-18 age category.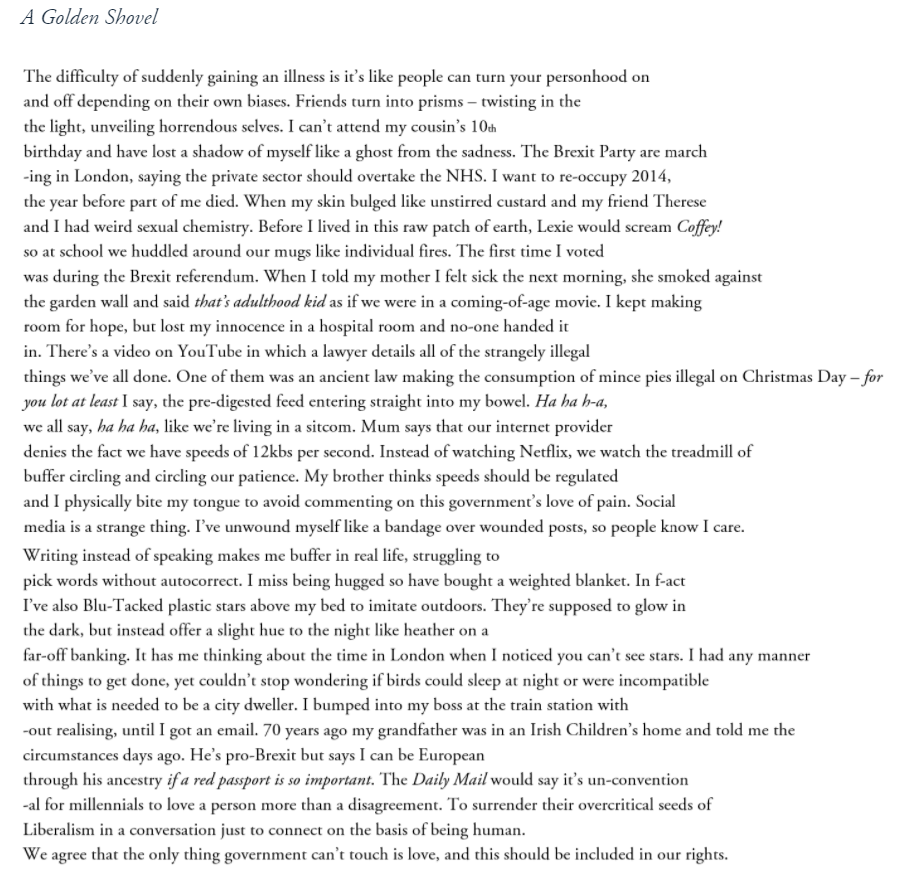 ***
We asked Hannah some questions about her poem, process and inspiration at the moment. 
What was the inspiration for your poem?/How did you approach thinking about political language in a creative way?
I am a writer living with disabilities (hence the golden shovel social care fact), with grandparents that I adore despite our opposing opinions. 2015 was the year I was diagnosed with a life-limiting illness, and there was the looming date of the Brexit referendum. This challenge sparked something really interesting within me. As a disabled LGBTQ+ woman everything I do, every breath I take is political, so adding the Brexit angle which is so polarising was interesting because I wanted to humanise people with different opinions to mine.
What is your one tip to other young writers/poets
Keep all of your notebooks. I refer back to poems I wrote five years ago, when I didn't have the right resources or experience to make a cohesive piece of art in the same way I would now. At the time I didn't like these pieces of writing, and would have thrown them out hadn't they been in a bound book. I now look back through my old notebooks and harvest lines/themes for my current projects. When you're saving work from the bin, you're saving something potentially very valuable, which like wine just needs to age a little.
Which writer/s/poet/s most inspire you and why?
Kim Moore is a huge inspiration of mine, not just for her poetry but her lyric essays and recent 'decide your own adventure' doctorate. I love the work of Caroline Bird and something amazing about lockdown has been that I have been able to go to virtual events and hear her pearls of wisdom in real-time. I also really admire Rebecca Goss and her first book 'Her Birth'. It gave me permission to write about illness and its impact on family in an unflinching but heartfelt way.
What are you reading at the moment (or a book you have enjoyed recently)
I have just finished reading the non-fiction book 'Letters of Note' which is a huge book filled with very random but genuine letters – the Queen writing her recipe for drop scones for the US President; and Amelia Earheart writing to her soon to be husband about her reservations and free-flowing boundaries when it comes to their relationship. Poetry wise I have just finished reading and immensely enjoyed 'When I grow up I want to be a list of further possibilities' by Chen Chen published by Bloodaxe.