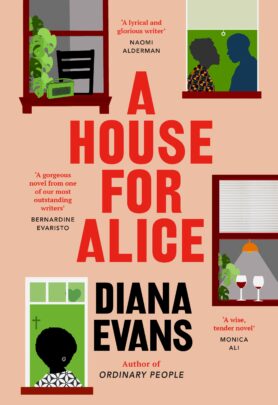 Buy the book
A House for Alice
Published by: Vintage
After fifty years in the wilderness of London, Alice wants to live out her days in the land of her birth. But her children are divided on whether she stays or goes . . .
In the wake of their father's death, the imagined stability of the family begins to fray. Meanwhile youngest daughter Melissa has never let go of a love she lost, and Michael in return, even within the sturdy walls of his marriage to the sparkling Nicole, is haunted by the failed perfection of the past. As Alice's final decision draws closer, all that is hidden between Melissa and her sisters, Michael and Nicole, rises to the surface . . .
Set against the shadows of a city and a country in turmoil, Diana Evans's ordinary people confront fundamental questions. How should we raise our children? How to do right by our parents? And how, in the midst of everything, can we satisfy ourselves?
London burns, then simmers, in Diana Evans's eloquent and engaging fourth novel. The Grenfell disaster frames a family story in which incendiary dangers, past and present, threaten lives and hopes. Evans's cast of mainly Black Londoners, some shared with her previous Ordinary People, now pursue their dreams – of homecoming, fulfilment, and escape – in a more hostile, or simply confused, environment. Public events intrude on struggles to belong, to transform, or to break free. Evans positions richly drawn characters in a city, and an age, branded indelibly by global change and stubborn inequalities of power."