Wyn Grant is emeritus professor of politics at Warwick University.  His book 'Political Football' will be published by Agenda Books in June 2021.  He is secretary of the vice-presidents club at Leamington Football Club and a regular contributor to their programme.  He writes regularly for the Charlton fanzine Voice of the Valley.  His football blog is athttps://footballeconomyv2.blogspot.com/ 
Football teams are rooted in places.  Their names reflect a particular location and provide a means of identity with that place, not least for people who have moved away.  Yet, over the last few decades, that link between football and place has been shaken in a way that has important political implications.
If one goes back a hundred or even fifty years most clubs were owned by locally based businessmen. Even if the players did not come from the locality, and some of them always did, they lived nearby, often in relatively modest houses provided by the club.   They would come to the ground by bus or walk, mixing with fans on the way.
Football has now been globalised. For the leading clubs the number of followers they have round the world far exceed those in the ground on match day.  Many of these followers may never visit the ground, but they are a market for the club's merchandise.  Firms from around the world will sponsor the club's kit, even items like corner flags.  (Mlily is the official global mattress and pillow partner of Manchester United.)
This matters because globalisation raises a number of issues, including foreign ownership of clubs and the treatment of migrants, some of whom come to Europe with a dream of playing football.   Globalisation has slowed down in the wake of Covid-19 pandemic but not in football where private equity firms see an opportunity to acquire clubs at knockdown prices. However, it also provides an opportunity to use football to bring about positive change across the world.
Clubs do still try and play a role in their local communities. Many are located in or near deprived areas and make efforts to tackle poverty or to offer sporting opportunities to youngsters.
In some ways, place has become more important than person in electoral politics.  In the 2019 general election, the Conservative Party successfully appealed to so-called 'red wall' seats with disadvantaged economic geographies.
A Case Study: Manchester City
Few clubs have been through bigger changes than Manchester City.   Once located in one of the most deprived parts of the city, they have moved to a new stadium complex and have been able to spend to acquire a world class manager and players.  This was made possible by the club's acquisition by Sheikh Mansour in 2008. Sheikh Mansour is the Deputy Prime Minister of the United Arab Emirates, he is also Minister of Presidential Affairs in the UAE and a member of the Abu Dhabi Royal Family. He is the chairman of the International Petroleum Investment Company and also has a stake in Virgin Galactic.
City claim 'we're using the 'football effect' to promote health, education and inclusion, to improve the lives of young people in Manchester and all over the world. ' Using football as a magnet to engage young people, the Club's Foundation, City in the Community (CITC) delivers a range of award-winning programs, focusing on three main areas: Health, Education, and Inclusion.
Among the 'inclusion' activities are holiday soccer schools, girls football and walking football alongside one of the club's longest-standing initiatives called 'Kicks' – which delivers community football for 8-19-year-olds during peak times of anti-social behaviour in the most deprived communities in the city. The aim is to promote increased community integration and combat negative stereotypes.
Projects across the world
Through City Football Group, which owns Manchester City and clubs around the world, projects are being delivered in many different countries such as Brazil, India and South Africa. For example, Ghana is one of Africa's fastest growing economies and has made significant progress in reducing poverty. However, more than 60 per cent of the population still lack access to safe drinking water, leaving them vulnerable to water-related illness and disease. This can affect children's education, especially girls, as they often have to walk long distances to collect water, making them late for school, or they are absent due to illness from waterborne diseases.
Football is being used to teach children about life-saving water and sanitation education, keeping them healthy and in school, and will be combined with equipment to provide clean water access to the local community.   Football is used to teach children about drinking healthy water, regular hand washing and staying away from germs.
The city of Manchester
Manchester City is one of two world class clubs in Manchester, the other being Manchester United.  A major football club also helps to raise the profile of a city, facilitating the attraction of overseas investment.
A study completed in 2013 by Cambridge Econometrics looked at the impact of football on Greater Manchester. It was estimated that football supported 5,000 full-time equivalent jobs in Greater Manchester, and that the gross value added associated with footballing activities was £330 million per annum in 2011.
In addition to the positive impact on tourism, and not just on match days, it was noted that "Missions looking to attract trade and investment to the Greater Manchester area use football in a number of ways. The most direct method is co-ordinating mission dates with Manchester United and Manchester City on their summer tours to major overseas markets".
But then there are losers
In the nineteenth and early twentieth-century Manchester was  known as 'Cottonpolis' because of the number of cotton mills, many now used as apartments, offices or for entertainment.   It was surrounded by a ring of cotton towns which in their time were quite prosperous with the mills offering regular employment for women at a time when this was less usual.
However, all these towns have been hit by economic and social challenges and this has been reflected in their football teams. After all, Premier League football in Manchester is just a tram or train ride away. Look at what has happened to these teams elsewhere in Greater Manchester:
Bolton Wanderers in the Premier League for many years, in League Two in 2020/21
Oldham Athletic in the Premier League when it was set up in 1992, now in League Two
Bury, disappeared other than as a 'phoenix' non-league club
Stockport County, at one time in the second tier of the Football League, now a non-league club
Rochdale, in League One in 2020/21, but fighting relegation
Wigan Athletic in administration in 2020/21 and fighting relegation from League One
Now think about clubs that started as non-league clubs and are now in the Football League ().   Where do they come from?
Southern England: AFC Wimbledon; Cambridge United; Cheltenham Town; Crawley Town; Forest Green Rovers; Oxford United; Peterborough United; Stevenage; Wycombe Wanderers (9) (The derby between Cheltenham Town and Forest Green Rovers is known as 'El Glosico')
Midlands: Burton Albion (1)
North of England: Barrow; Fleetwood Town; Harrogate Town (prosperous northern spa town); Morecambe; Salford City (owned by former Manchester United players) (5)
The stadium and a sense of place
The stadium is where fans go to see home games, but it is also where they go to meet friends, some of whom they only see at football matches.   For example, when Charlton are playing at home I leave Warwickshire at 9.30 am to meet friends in my birthplace of Greenwich for brunch and a pre-match drink.
Charlton fans were exiled from The Valley after it was deemed unsafe to play in and had to share the ground of their South London rivals Crystal Palace.   New owners were prepared to fund a return to the ground, but Greenwich Council was reluctant to give planning permission.  Fans formed a political party called The Valley Party and fought local elections, securing the defeat of the chairman of the planning committee.   They subsequently were given permission to return and now have good relations with the Royal Borough of Greenwich.
Coventry City fans left their ground in the city centre for the new Ricoh Arena on the outskirts of the city. They did not own the stadium and a series of court cases followed which saw them playing home matches at Northampton Town's ground and then in 2020/21 at St. Andrews, the home of Birmingham City.   West Midlands mayor Andy Street helped with negotiations between Coventry City and the owners of the Ricoh, Wasps Rugby Football club.   In March 2021 it was announced that they have signed a ten-year agreement for Coventry City to play at the Ricoh, pending the construction of their new stadium on the Warwick University campus.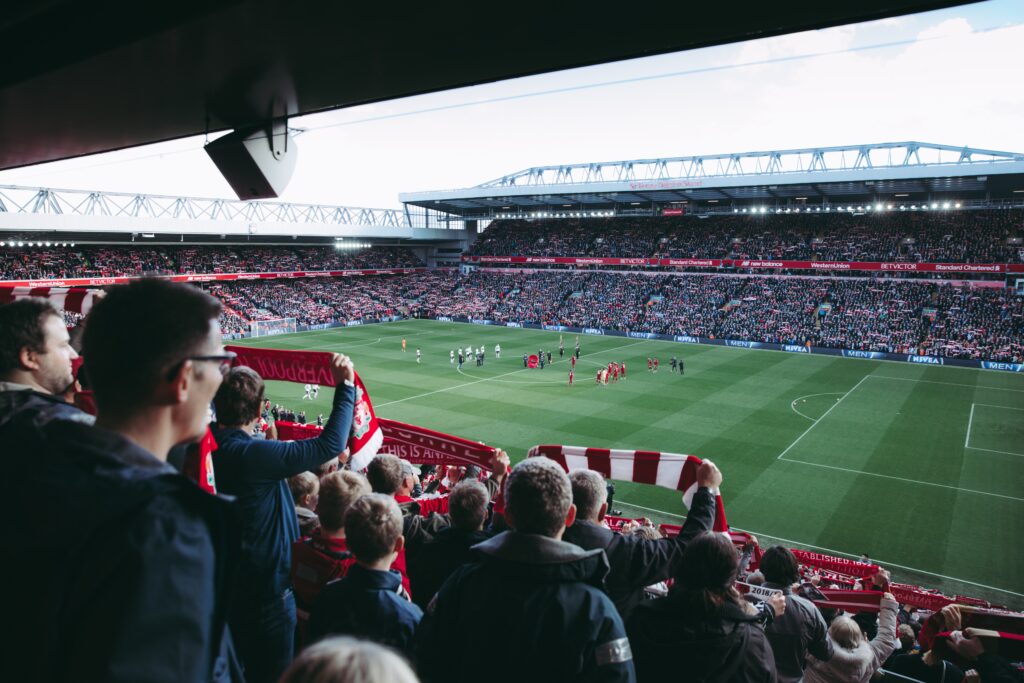 Ticket prices
A common complaint made by fans and some journalists is that the demographic base of football is changing. High ticket prices exclude traditional working-class supporters and also cannot be afforded by younger people, leading to an ageing support base.
In 1960, tickets at Chelsea's Stamford Bridge cost 1 per cent of the average weekly wage, which rose to almost 3 per cent by 1990 and in 2010 stood at 10 per cent. Supporters have become more affluent with clubs particularly keen to sell lucrative corporate boxes.
Football finance guru Kieran Maguire has noted: 'Some clubs deliberately restrict season ticket sales in order to maximise income from football tourists, who pay more for tickets for individual matches and are more likely to spend money on merchandise in the club megastore.'  His research shows that between 1966 and 2018 ticket prices "outstripped inflation … by over 2000 per cent for the cheapest tickets, and a mere 750 per cent for the most expensive.'
Nevertheless, observations of this kind often overlook the fact that society as a whole has become more middle class and affluent with a decline in the number of those in manual occupations.  People have more discretionary income to spend.
Further reading/listening/watching
Questions for discussion
What does the increase of global football tourism, rising ticket prices and foreign ownership of clubs mean for locally based supporters?   Are they happy to accept the additional funds that are brought in which means that the club can win more matches and trophies?   Or do they think that their links with the club as fans and as an important source of their identity is undermined?
Can you name the club that once played in League One but whose stadium has now been demolished and the club only exists as a non-league phoenix club.   What was the stadium called and what famous product did the club's owner make?    The first person with correct answers sent to The Orwell Youth Prize will receive a free copy of Wyn Grant's book Political Football.
Research task: do stadiums matter?
What is particularly challenging about stadiums as economic assets?   Can one rebuild a stadium to secure a better return – for example, have Tottenham Hotspur managed this?   Did Arsenal take a financial hit on their pitch from their move to the Emirates?   Why have new stadiums not boosted the fortunes of Middlesbrough and Sunderland?  Chelsea have long sought a new stadium location as Stamford Bridge is difficult to rebuild – but then how did Brentford manage to build a new stadium on an awkward site?   Is the new stadium for Forest Green Rovers, known as 'the Vegans', really environmentally sustainable?
Finally, a prompt for the Writing Prize
What does the future hold for football and place? How can a small non-league football club owned by its fans develop as a club and as part of the local community?   What forms of help are available?   How can it provide training for youngsters and develop a team for women?   Perhaps look at the website of Lewes FC https://www.lewesfc.com as a starting point.  You can also google stories about Lewes in the national press. What are the similarities and differences between 'grassroots' football campaigns, and other forms of political action?